20CBM T50 20FT LPG/LNG/Chlorine/Lo2/Ln2/LCO2/Cooking Gas Container Lpg Tank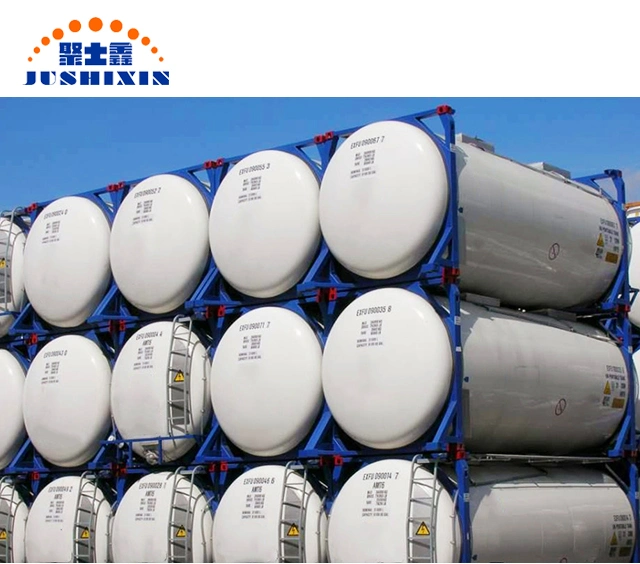 Codes and regulations

RID/ADR, IMDG, ASME VIII DIV 1-2017Ed;

T75 UN PORTABLE TANK TIR;UIC;CSC;TC;FRA;CFR49;ISO 1496/3;ISO Standard 1161

Guidelines for tank container

T75 UN Portable Tank

ISO Size and type code

42K7

Maximum Allowed Loading Weight

17510kgs

Tare Weight

11700kgs

Allowed stacking weight

192000kgs

Manufacturing license level

Inside tank

C3

outside tank

Max. Working Pressure(Mpa.)

Inside tank(MPa)

0.75

outside tank(MPa)

-0.1(Vacuum)

Min. Working Tempretrues

Inside tank

-196°C

outside tank

-40°C

Design Pressure(Mpa.)

Inside tank

0.8

outside tank

-0.103

Design Tempretrues

Inside tank

-196 °C

outside tank

50 °C

The Main material

Cover

inside tank

SA-240M 304

outside tank

Q345R

Shell

inside tank

SA-240M 304

outside tank

Q345R

Frame work

Hollow Section

Q345-D--GB/T1591

Plates

Q345-D--GB/T1591

Rolled section

Q345-D--GB/T1591

Overall Size(Frame)/L*W*H/mm

12192*2438*2591

Media

Inside tank

LNG

Media Characteristics

Inside tank

explosive

Paint

Frame

30µm +40µm +50µm

Shell

30µm +40µm +50µm

Total Volume(L)

45700

Type Of Insulation

High Vacuum Multi-layer Insulation

Material

Aluminium Foil

Provision for Baffles

Five sets of surge baffles shall be installed.

Corrosion allowance

Inside tank

0mm

outside tank

0mm

Nominal thickness

Shell

Inside tank

6mm

outside tank

4.0mm

Head

Inside tank

8mm

outside tank

6.0mm

Air pressure test pressure

Inside tank(MPa)

1.17

Fittings

All fittings, including valves and pipe sections shall be cleaned and then fitted to the tank.

Welding joint coefficient

Inside tank

1

outside tank

0.85

Leakage Test and Nitrogen Purge

After cleaning, all valves, blind flanges, caps and connected piping are installed and a leak test is performed at16.2 bar using clean and dry air. The vessel will be delivered in a Nitrogen purged condition. Nitrogen will be used (O2 < 0.5% residual oxygen, 0.5 bar pressure).

Main hazard category

2.1

Design service life

20 years

Mode of transportation

Road,Sea,Railway

Safety valve

Quantity

Two

Set Pressure

+8bar

Liquid Level gauge

Grade

2.5

Quantity

One

Measuring range(Kpa)

0~2.0M H2O

Loading and unloading device

Gas phase joint

Type

Flange connection

Nominal Diameter

DN50

liquid phase joint

Type

Flange connection

Nominal Diameter

DN50

Pressure gauge

Quantity

One

Measuring range(Mpa)

0~1.6

Precision

1.6 Class
1. Inner layer - made of 6 or 8 mm thick Q235-B steel plate, compared with ordinary 5 mm thick single-layer tank, the strength is greatly improved;

2. Outer layer - tempered glass fiber thickness of 4.0mm or more, good compressive and seismic resistance. It has strong corrosion resistance and corrosion resistance;

3.Unique technology is adopted between the inner and outer layers to make it reach a gap of 0.1-1mm, so as to eliminate hidden dangers from the root;

4. Leak detector 24 hours to monitor, to prevent leakage caused by security risks;

5. Widely used for storage and transportation in dairy, beverage, wine technology, with function of anti-seismic, anti-explosion, leakage-proof and cooling.
Detailed photos for the Tank container: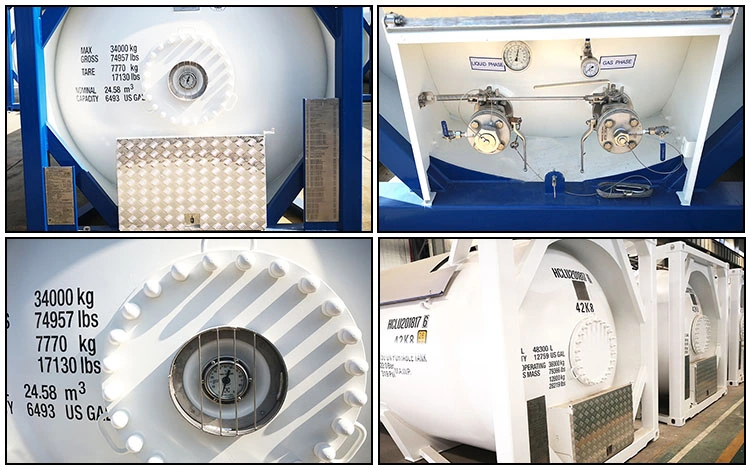 Factory Workshop: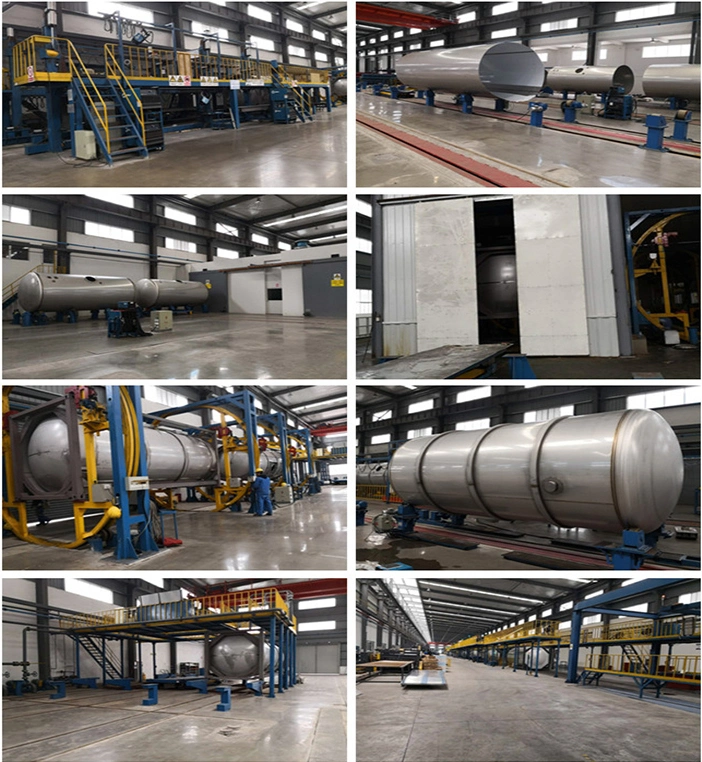 3.More Styles for the ISO tanker container: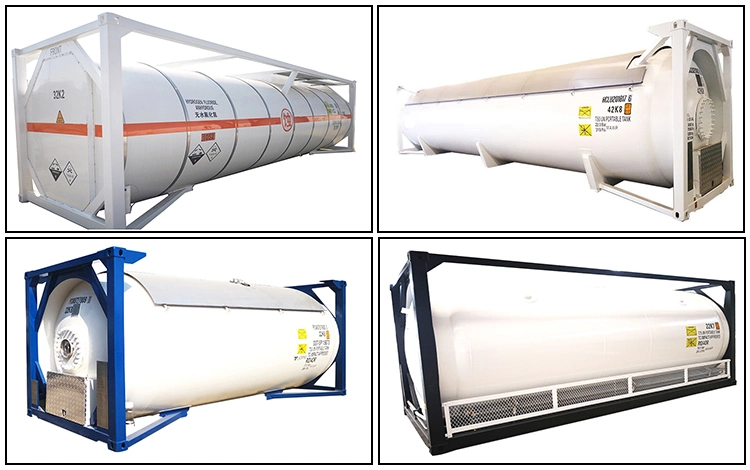 4.Design proposal for the 20feet ISO tank container:
---Net capacity: not less than 20cubic; Shell of tank container Materials using Wisco Q235 High quality carbon steel 6mm
baffle;
---Two feed inlets,bigger manhole covers, 2 NOS. pressure vent valves( breather valve) , at the end of the bottom , DN80 dump valve(discharge valve). Screw of Openings and valves adopt stainless steel screws, single coaming board on the top of tank Molybdenum red reflective tape;
---Framework is made of High quality steel, each one ladder at
back and forth. With two acid resistant tube, two 4kg fire extinguishers.
5.Optional parts for the tanker container:
Volume: 20 cube meters to 52 cube meters
Material: Carbon steel/aluminum/stainless steel material
Medidum:
HYDROFLUDRIC ACID HCI 32%
,CAUSTIC SODA NaOH 32%,NaCl. NaClO
etc
. Chemical Liquid.
6.BRIEF INTRODUCTION TO OUR FACTORY:
Henan Jushixin Transportation Equipment Co.Ltd is the professional manufacturer of ISO tank container,such as
standard liquid tanks, electrical heating tanks, reefer tanks, food grade tanks, baffle tanks, swap tanks, gas tanks, H2O2 tanks, AHF tanks, bitumen tanks, different types of lining tanks, etc, and 10ft tanks, offshore tanks, IBC/SBC ,etc
, with high standard machinery and automatic equipment, powerful R&D team and elite sales team, we have built a long business relationship with many world famous enterprises.pls contact us if any interset.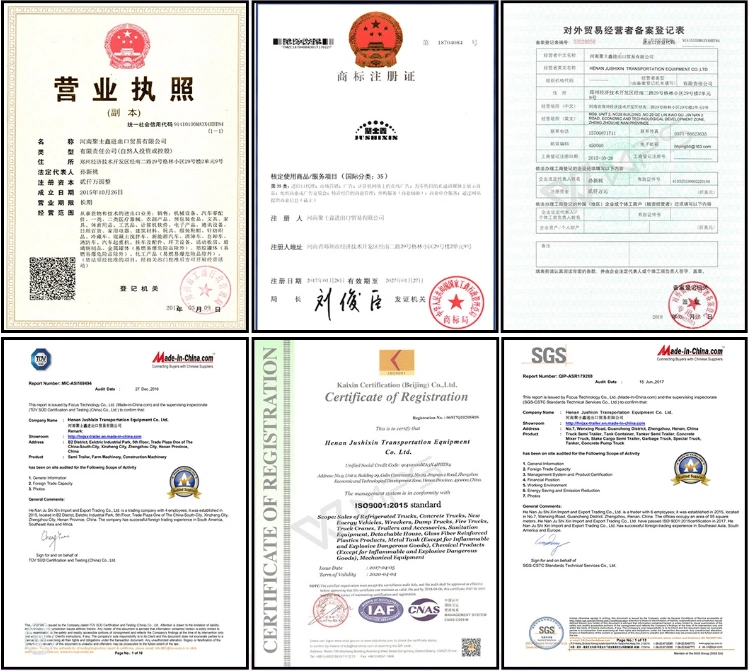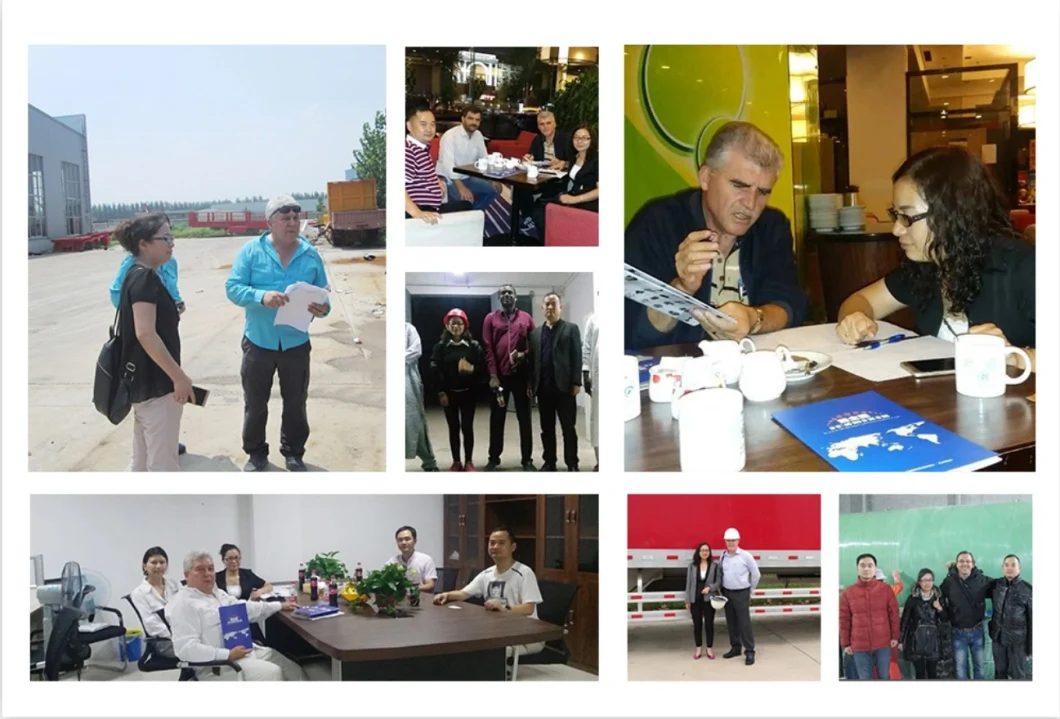 7.FlEXIBLE SERVICE WE PROMISED FOR EACH ITEM FROM OUR FACTORY:
>>>Offering the one-stop full lifecycle services;
>>>Our vehicle users will receive 24-hour uninterruptible "Entire Journey" service;
>>>CCC&ISO Agreement, 1 Year Guarantee Term, Main-beam Lifetime Promise;
>>> Small Order Can Be Accepted;
>>>Any Color & Logo Available;
>>>The Product Dimension + Specifications Can Be Designed As Your Needs.
8.Buying Guides
**You please send us your enquiry;
**We shall reply you with the quotation within 12 hours;
**We negotiate on the configuration that you need;
**Confirmation of the tech data → sign contract (P/I) → 30% deposit (or L/C issuing)→ production;
**Manufacturing process updated news → completing production;
**Balance payment → ex works → shipment → custom clearance → A/S service for 1 year.
Contact information