ID1000 Heat Shrinkable Sleeve for Plain Wall HDPE Drainage PIpeline
Heat shrinkable sleeves are the most widely used technology in the world today for field girth-weld corrosion protection because they are easy to install, provide excellent protection and are cost-effective. With formula made of various raw materials and radiation, cross linking and other process techniques, heat shrinkable wrap sleeve with various size for various purpose are manufactured. They are widely used in joint corrosion prevention, leakage prevention, protection of petroleum, natrual gas and heat insulation pipelines, etc. They are predominant in high mechnical strength, strong anti-aging capability, good sealing property, corrosion resistance, convenient construction, etc.
Application:
1. For girth welding of pipeline
2. Offshore and Underground coatings
3. Field coating Joint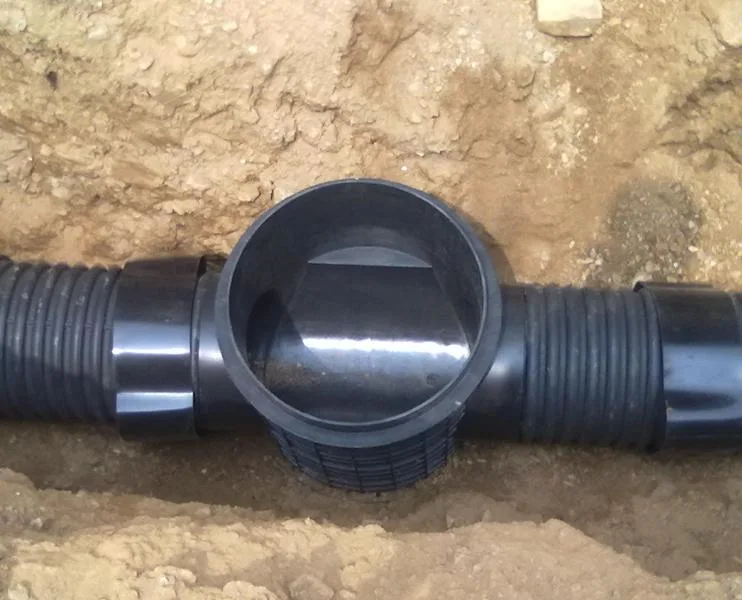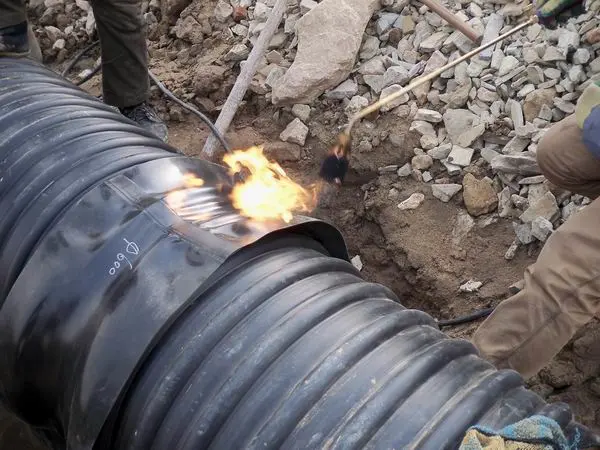 Product Properties
NO.

Item

Unit

Typical

Test Method

A

Base Material of the Heat-Shrinkable Sleeve

1

Tensile Strength

MPa

22.7

GB/T 1040

2

Elongation at Break 23 oc

%

630

GB/T 1040

3

Weika Softening Point

oc

91

GB/T 1040

4

Brittle Temperature

oC

<-65

GB/T 1633

5

Dielectric Strength

MV/m

30.4

GB/T 1408

6

Volume Resistivity 2oc

Ω@m

6.2×1013

GB/T 1410

7

Stess Failure F50

h

No crack after 1000 hours

GB/T 1842

8

Corrosion Protection Against Chemist Medium (Marinate 7 days)10%HCl
10%NaOH
10%NaCl

%


98
94
98

GB/T 1040

9

Thermal Ageing Protection(150oc,168h)
Tensile Strength
Elongation

MPa
%

21.3
620

GB/T 1040

B

Heat-Melt Adhesive

10

Softening Stength

oc

105

GB/T 4507

11

Shearing Strength

MPa

2.9

SY/T 0041

12

Brittle Strength

oc

<-15

ASTM D2671C

13

Peel Strength (PE/Steel)

25oc

N/cm

120
62

GB/T 2792

50oc

14

Peel Strength (PE/FBE)

25oc

N/cm

100
48

GB/T 2792

50oc

15

Peel Strength (PE/PE)

25oc

N/cm

83
35

GB/T 2792
About our company:

TSD Plastic is located in the coastal city-Qingdao, and the factory is only 1km away from Qingdao airport, 60km away from Qingdao seaport. The convenient transportation saves a lot of time and cost for our esteemed clents.

TSD Plastic Company has its own plastic sheet production line, adhesive coating machine for heat shrinkable tapes, electro fusion welding joint line, plastic sheet and plastic welding rod All the products are produced at its own workshop from raw material to end products, so the best quality of products can be controlled. TSD products are certified to international
Standards like DVGW, ISO9001, Petro China ect, anexported to more than 20 countries, which has got good
Reputation because of good quality with very competitive prices!